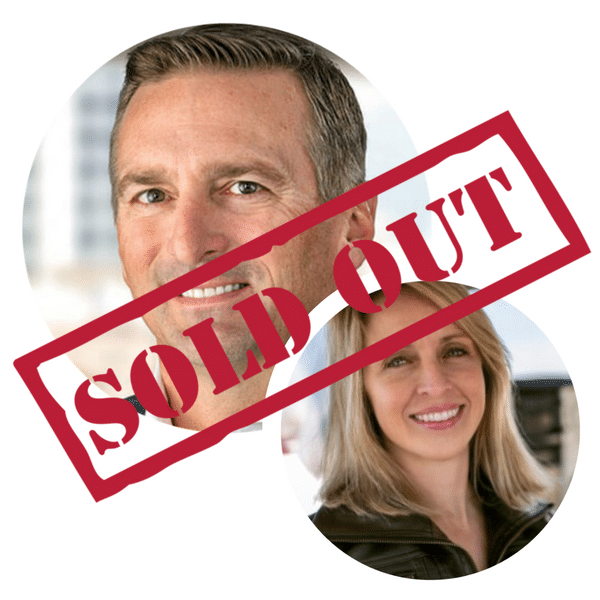 Jim "Murph" Murphy
Founder & CEO, Afterburner and Former F-15 Instructor Pilot, USAF 
Flawless Execution and Rapid Planning Workshop 
With Jen "Steel" Wade, former F-16 Fighter Pilot and Mission Commander, USAF
During this engaging and informative presentation and workshop you will learn how to develop quick, tactical plans for flawless performance in tight time lines using the same proven planning process as elite military fighter pilot teams. The effective use of Afterburner's Plan-Brief-Execute-Debrief cycle will have a rapid, positive impact that will catapult your business to greater success.
This is an excellent opportunity to learn, network and sharpen your skills alongside hundreds of other successful CEOs and executives. 
Scroll down to see five brief videos where Jim introduces some key concepts that will be discussed at this presentation and workshop.
James D. "Murph" Murphy, the Founder & CEO of Afterburner, Inc., has a unique and powerful mix of leadership skills in both the military and business worlds. Murph joined the U.S. Air Force where he learned to fly the F-15. He logged over 1,200 hours as an instructor pilot in the F-15 and accumulated over 3,200 hours of flight time in other high-performance aircraft. As the 116th Fighter Wing's Chief of Training for the Georgia Air National Guard, Murph's job was to keep 42 combat-trained fighter pilots ready to deploy worldwide within 72 hours. As a flight leader, he flew missions to Central America, Asia, Central Europe and the Middle East.
In 1989, Jim "Murph" Murphy sat at the controls of an F-15 fighter jet and realized that the cultural discipline and strategic alignment needed to execute flawlessly in the unforgiving, rapidly changing world of military aviation was more than unique — it was awe-inspiring. The U.S. military's ability to cultivate a singleness-of-mind around strategic action was so compelling to Murph that he strove to translate these time-tested, combat-proven processes into a simple, scalable, agile methodology. The result was Flawless Execution, a proprietary framework that enables organizations to effectively leverage team experience, lessons learned, and a structured planning process to achieve new levels of success.
Prior to his service in the U.S. Air Force, Murph had a successful career in imaging equipment sales, where he helped increase his company's sales by 500%. Years later, he became Director of Sales for a small paint company. The concepts he developed and utilized in business and the U.S. Air Force would become known as Flawless Execution. Applying Flawless Execution's continuous cycle of planning, briefing, executing, and debriefing, he increased his new employer's sales from $5 million to $52 million per year. Realizing that all companies and organizations could benefit from these same concepts, Murph started Afterburner Incorporated in early 1996.
Through his leadership, Afterburner landed on Inc. Magazine's Inc. 500/5000 List four times. Murph has been featured in The Wall Street Journal, BusinessWeek, Inc. Magazine, Newsweek, Meetings & Conventions Magazine and has appeared on CNN, Fox News, CNBC and Bloomberg News. He was also named as one of Atlanta's top 50 entrepreneurs by Catalyst Magazine. To date, the Afterburner team of elite military professionals has led more than 1.5 million corporate leaders and business professionals from every industry through Afterburner's unprecedented Flawless Execution℠ training and development programs.
Murph and Afterburner have shared the podium with notable speakers like Bill Clinton, Condoleezza Rice, Colin Powell, J.W. Marriott Sr. and Marcus Buckingham. Murph has served as a panel member of the League of Extraordinary Minds with business and self-improvement thought leaders like Tony Robbins and Stephen Covey. He is the author of the seven books; On Time and On Target (2016), Courage to Execute (2014), Down Range (2013), Flawless Execution (2006), The Debrief Imperative (2011), The Flawless Execution Field Manual (2009) and Business Is Combat (2000). Murph has also been invited to speak at many of the world's most notable business schools, including Harvard, Wharton, Cornell, Emory, Duke, MIT and Fudan University in Shanghai, China.
Jen "STEEL" Wade
Former F-16 Fighter Pilot and Mission Commander, USAF
Jen "STEEL" Wade graduated with her B.S. in Biochemistry from Washington State University and received her MBA from Colorado State University and is a graduate of Army Airborne training. She is a former F-16 fighter pilot and a current entrepreneur in the aviation industry.
STEEL has over 1700 hours in the F-16 with 100 combat missions in Iraq and Afghanistan, resulting in 5 aerial achievement medals. Her military career was distinguished through serving as a Mission Commander and Forward Air Controller where she was responsible for coordinating timely and accurate air-to-air and air-to-ground kinetic strikes with multiple joint services and international allies. In addition, STEEL was responsible for flawlessly executing the $11 million deployment of her 16-member, 12 jet squadron to Afghanistan, awarding her the Wing's Company Grade Officer of the Year award. STEEL's military career cumulated with her selection into the F-16 instructor cadre where she spent the last 4 years of her active duty service teaching new students the tactics, techniques, and procedures of the F-16.
STEEL currently resides in Walla Walla, WA, where she is the founder and CEO of a flight school and a youth motivational speaker.
Jim introduces the Importance of Conducting a Debrief and how it affects future planning.
Jim speaks more on the Importance of Debriefing.
Jim speaks to the importance of a business leader avoiding Task Saturation.
Jim explains how the Breakout Planning Sessions at the event will result in the formation of a solid, effective plan to move forward on a key priority.
Jim explains the Flawless Execution Cycle of Plan-Brief-Execute-Debrief and how it can result in big Wins for your organization.